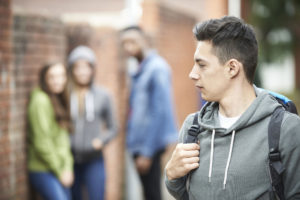 In the wake of school shootings across the country, many people have been left wondering if there was anything we could have done to prevent the tragedies. Oftentimes things come out after the fact that people say were red flags and should have been a warning sign that the teen needed help. Learning about these red flags after the fact does us no good, and it usually only leads to frustration and finger pointing. But what if we could enter certain red flags into an algorithm to find at-risk individuals and intervene before problems arise in the future? St. Paul is experimenting with such technology.
The City of St. Paul is partnering with Ramsey County and St. Paul Public Schools in hopes of developing a program that can identify at-risk juveniles so they can reach out to them before it's too late. If they can get approval from government bodies, they hope to redirect troubled youth away from a life of crime.
Preventing Future Crime
Here's how officials hope the program will work. The program will analyze data from schools, the juvenile justice system and child welfare offices. It would look at police contacts, days missed from school, curfew violations, juvenile crimes, related family crime and other factors that suggest the kid is heading down a bad path. Once they reach a certain threshold in the system, the program would alert authorities and a series of intervention programs would be tried in order to help steer the youth in the right direction.
Officials believe this would help keep kids out of a life of crime, and it would save taxpayers a bunch of money associated with prosecuting and jailing these future offenders. That's a win-win for everyone.
The problem, as you might have guessed, is over privacy issues and collecting certain data on teens and kids. Erica Schumacher, director of strategic initiatives for the county attorney's office, said she believes lawyers have come up with language that would allow the right data to be collected while protecting the privacy of everyone involved. Her proposal would need to be accepted by the city council, county commission and school board, but at least one group seems to welcome the program.
"I am just super excited about this," said school board member Jeannie Foster said. "This is so needed."
During her pitch, Schumaker gave an example of two 16-year-old boys who committed a serious assault in 2013. One boy had 31 contacts with law enforcement before the assault, while the other has 23 contacts, but nobody ever took it further to get through to these kids.
"We look at that as 23 and 31 opportunities we had to intervene as a system and we failed that child and that family," Schumacher said. "And now, we're paying to lock them up for 20 years. We think working together we can do better."
Investors? Possibly You!
Funding for the program would come from an interesting source – private investors. But there's a twist. Private investors would provide cash up front to pay for interventions. If these interventions work and future problems are prevented, the government would then pay back the investor, with interest, from the money saved by reducing spending on prosecution and incarceration.
So if you are interested in helping fund the project, keep an eye on how it is received by the city and school. It sounds promising, and we would be interested in seeing if it could provide valuable resources for troubled youth.