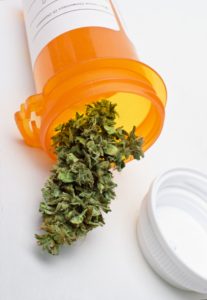 A terminally-ill cancer patient was recently issued a citation by police in Kansas for using marijuana to help ease his discomfort in his final days.
According to reports, hospital staff in Kansas called police to inform them that a terminally-ill cancer patient was using cannabis products to cope with his symptoms. Kansas is one of three states in the US that has not legalized cannabis in any context. Upon arrival at the hospital, police had a short interaction with with man before issuing him a citation for a drug violation. Police also took a vaping device and cannabis product that had previously been confiscated by hospital staff.
The citation required the 69-year-old patient to appear in court, a task that would be next to impossible given his physical state, according to Lee Bretz, the patient's son.
"He can't make it to court. He's bedridden. He can't move his legs."
Greg Bertz, the patient at the center of the story, said that he had previously been told by a doctor "to do whatever he wants if it makes him feel better," since his team had exhausted all medical treatments. He said he was laying in his hospital bed, using a vaping device and eating some THC paste on bread to help cope with his symptoms when the authorities barged into his room. After a short conversation, Bertz was cited for a drug violation.
Charges Eventually Dropped
As you might imagine, news of the decision to cite a terminally-ill cancer patient spread like wildfire, and many people around the world expressed outrage over the decision to cite Bertz. And while police will claim they came to this decision on their own, others will argue that public pressure led to police recommending to the prosecutor that the citation be dismissed. 10 days after the incident, the local police chief reached out to Bertz to let him know that the police department would not be pursuing the citation and he would not be required to appear in court.
However, the damage was already done for both the police department and the hospital, who have both received numerous complaints since the incident. Bertz' son hopes that the incident sparks a conversation about legalizing medical marijuana in Kansas.
"Nobody wants to see their loved ones hurting, and you'd do anything to see them not hurt," he said.
Needless to say, this was an incredibly insensitive move on the part of the police. There have been plenty of examples over the last few years where police would have benefited from a little humanization of the situation instead of solely acting within the black and white of the law. Frankly, we're a bit surprised there hasn't been more outrage given how tone deaf the entire incident was. We're glad that the citation was dropped, and we hope that Bertz and his family can find some peace as they navigate a difficult time in their life.