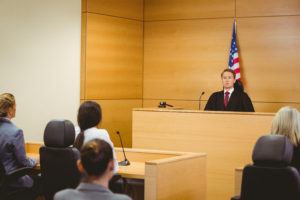 Criminal attorneys and defendants will soon no longer have the ability to keep news cameras out of the courtroom after the Minnesota Supreme Court issued new rules last week.
The decision came after justices reviewed recent changes that allowed some high profile criminal cases to be documented and livestreamed in real time. The most noteworthy trial was that of ex-police officer Derek Chauvin, who was found guilty of George Floyd's murder. Justices noted that the court system become more comfortable with cameras in the courtroom after they were used in that trial and in the Kim Potter trial. Outside of those cases, Minnesota courts had previously denied camera access in 30 cases and only approved one since trial courts began experimenting with cameras in the courtroom in 2015.
New Camera Rules
Under the new rules, the decision as to whether or not cameras will be allowed in the courtroom will be left up to the judge in the case. Previously, the attorneys and the defendant had more power to restrict camera access, and while they may still be able to attempt to persuade a judge one way or another, the judge will have final say.
Chief Justice Lorie Gildea wrote that the new rules for the state's trial courts "will promote transparency and confidence in the basic fairness that is an essential component of our system of justice in Minnesota."
The debate over whether or not cameras should be allowed in the courtroom has been a hot button issue of late. Last year, most members of a Supreme Court advisory committee recommended against major changes to courtroom camera access, noting that many attorneys, judges and victims generally don't want intimate case details made readily available to the public. However, the Minnesota Supreme Court ruled in favor of news media on Wednesday, noting that most public commenters favored increased access.
"The public commenters advocated in favor of more transparency, greater public trust, and broader accessibility, all of which are important factors to consider here," Gildea wrote.
Still Some Restrictions
As you might imagine, cameras won't just have free reign to any trial or any part of the proceedings. Cameras still will not be allowed during jury selection or pretrial hearings. Cameras will not be allowed to show any minor victims, defendants or witnesses, and it will be up to the involved parties as to whether or not cameras will allowed in sex crime related cases. Judges have also been told to keep cameras out of the courtroom in situations where there's "a substantial likelihood that coverage would expose any victim or witness who may testify at trial to harm, threats of harm, or intimidation."
"Ultimately, district court judges retain broad discretion to allow or disallow visual and audio coverage under the modified rules," Gildea concluded.
We're all for transparency, so we're cautiously optimistic that these rules will be applied appropriately, and we hope that the Minnesota Supreme Court will monitor the effects and make any necessary changes if there are any unforeseen consequences as a result of more public access to criminal cases.