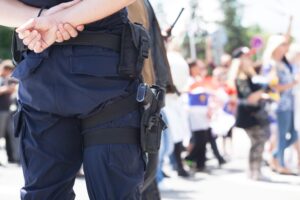 Many schools in Minnesota opened their doors for students and staff today, but one group that may not be walking back through those doors this year are police officers.
Many law enforcement agencies made the decision to remove their School Resource Officer (SRO) from schools due to a recent law change. The new law was passed in an education package back in May, and it prohibits school-based officers from placing students in a prone position or in holds that subject them to "comprehensive restraint on the head, neck and across the torso." Many police agencies feel that the removal of these restraint tactics makes it hard to do their job and subdue a suspect without opening themselves up to a major lawsuit.
"Prohibiting the most basic measure of safely restraining and controlling the aggressor in a fight severely impacts the SRO's ability to intervene, stop the altercation, and protect everyone's safety," said Jeff Potts, executive director of the Minnesota Chiefs of Police Association in a letter to Gov. Tim Walz.
Gov. Walz Responds
Walz responded by saying that the law includes "exceptions for health and safety of students and the officers," and that "I certainly think we should agree that we should not be on the necks of students unless someone's life is at risk."
SROs are leaving schools at a time when more students are getting into trouble. Pundits have noted a rise in disciplinary issues in schools across the country over the past few years.
Nobody wants their child to feel unsafe at school, but nobody wants an altercation with an angsty teenager to turn into a life threatening situation because the officer placed the child in an unsafe hold. We understand the concerns of all parties, and we hope that law enforcement agencies will develop some additional training programs so that SROs can feel confident in their ability to be a safe presence in a school setting without putting themselves at risk of a major lawsuit because they restrained an aggressor in an inappropriate manner.
In the meantime, if you or your child run into trouble on the first day back in school, be sure to reach out to Avery and the team at Appelman Law Firm today at (952) 224-2277.