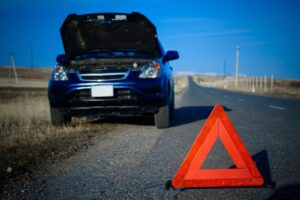 As we've talked about on the blog in the past, Minnesota has a law that requires drivers to move over one lane or slow down to a safe speed when approaching an emergency or highway maintenance vehicle. The law was named in honor of Ted Foss, a Minnesota State Trooper who was fatally struck on the side of the road while interacting with an individual that he had recently pulled over for speeding. Recently, the law was updated to protect even more people on the side of the road.
New Move Over Law
According to the new law, which went into effect on July 1, motorists are also now legally required to move over at least one lane or slow down to a safe passing speed for any stranded vehicle that:
Has its emergency flashers on; or
Has at least one person visibly present on the scene.
"For years, Slow Down, Move Over efforts have focused on emergency responders," said Gene LaDoucer, regional director of AAA-The Auto Club Group. "While it's critical we continue to protect those who come to the aid of motorists, it's also important to provide the same protection to motorists who get flat tires, break down, run out of gas, or otherwise find themselves in trouble at the roadside. It's simple, if you see flashing lights, move over a lane and proceed with caution."
Failing to move over or slow down to what a reasonable person would consider a safe speed is punishable by a fine of more than $100, so it really pays to keep your eyes out for vehicles on the side of the road and give them as much distance as possible. Every year nearly 350 people are struck and killed outside a disabled vehicle in the United States, and Minnesota believes that the new change will help to keep more citizens safe.
As you can probably imagine, the updated law will be open to interpretation, so if you are cited for a Move Over violation, consider reaching out to an attorney to learn about your options. It may be clear that you did not move over, but if you can argue that it was unsafe to move over and that you tried to slow down to a safe speed, you may be able to beat the charges. We can go over the specifics of your case and come up with the best defense for your unique situation.
For more information about the new law, or for help with a different traffic or criminal case, reach out to Avery and the team at Appelman Law Firm today at (952) 224-2277.