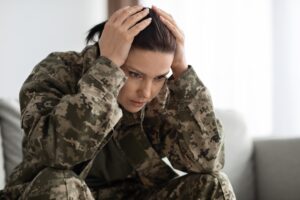 A new Minnesota law will help veterans who commit low-level criminal offenses avoid jail time if they have proven military trauma and follow through with a diversion program.
Veteran's Day was last week, and one of the ways we can help honor and protect our veterans is to ensure that they have the tools they need to succeed when they return home and reintegrate back into society. Returning to life at home is not easy for many as a result of the physical and mental toll that military service can take on a person, and that can lead to a number of issues, including criminal charges if they head down the wrong path.
Oftentimes the choice to step outside the law is fueled by trauma they experienced in the military, be it Post-Traumatic Stress Disorder, traumatic brain injury, sexual trauma, depression or related mental illnesses. Because the crime was likely due in part to this trauma, and because problems may continue if the underlying issue is not addressed, Minnesota recently passed first of it's kind legislation to help veterans in a few different ways.
Giving Veterans A Second Chance
The Minnesota Veteran's Restorative Justice Act allows judges to defer criminal convictions on lower-level crimes committed by veterans who have proven PTSD, sexual trauma, traumatic brain injury, or other mental health issues connected to their time in the military. While some may see this as a 'Get Out of Jail Free' card for veterans, it's anything but. Defendants will still need to plead guilty to the charge (which is not accepted, but rather deferred by the court), and it will only be dismissed from their record if they undergo and complete a rehabilitation program overseen by the court.
"[The Act offers] access to programs and treatment for a service-related condition which lead or contributed to a criminal offense, and opportunities to collaborate with a County Veterans Service Officer (CVSO) and the U.S. Department of Veterans Affairs to maximize benefits and services available to the Veteran," said the Minnesota Department of Veterans Affairs in a blog post.
The program is available to veterans charged with all misdemeanor and gross misdemeanor offenses, and certain felonies even qualify for the program, like drug possession or domestic violence.
At the end of their probationary period and program, a hearing will be held by the court to determine if the individual followed all of the required conditions. If they've met the conditions and are deemed no longer a threat to the community, the original charges will be dropped. If they've run into additional troubles or have failed to comply with the rehabilitation program, the judge may opt to convict the individual for the original offense.
This is a great program that is focused on treating the underlying issue to hopefully get a former military member back to a healthy place in society. We thank all current and former military members for their service and hope they have access to the tools they need if they are struggling at all once they come back home.