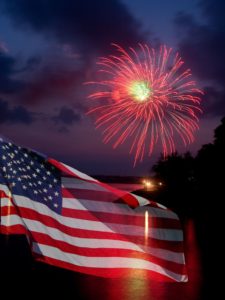 The 4th of July is almost here, and that means a lot of people will be ringing in the holiday with fireworks and sparklers. However, if you're not careful, you can end up with burn injuries or face fines if you use fireworks illegally. Below, we take a closer look at the fireworks laws here in Minnesota.
Are Fireworks Legal in Minnesota?
Under Minnesota law, if the firework explodes or flies in the air, it is illegal. If police catch you shooting off illegal fireworks, they will confiscate the fireworks and issue you a fine. Here are some examples of legal and illegal fireworks.
Illegal Fireworks
Firecrackers
Flying projectiles
Bottle rockets
Roman candles
Legal Fireworks
Wood or wire sparklers
Snakes or worms
Smoke-emitting devices
Snaps and drop cans
Penalties For Possession of Illegal Fireworks in Minnesota
According to Minnesota law, possession of less than 35 pounds of illegal fireworks is punishable by up to 90 days in jail and fines up to $700. Possession of more than 35 pounds of illegal fireworks is punishable by up to one year in jail and fines up to $3,000.
Also, remember that it is illegal to use any type of firework on public property. This includes areas like streets, alleys and parks, as well as on school or government property.
When it comes to purchasing legal fireworks in Minnesota, businesses may not sell to anyone under the age of 18. Businesses can face major fines for selling fireworks to underage individuals, and teens can face fines if they use a fake ID in order to purchase fireworks.
Have a safe and fun Fourth of July, and keep in mind the laws regarding fireworks, as well as how to safely use them. If you end up facing a possession of fireworks charge, or you get charged with another crime like DUI while ringing in the holiday, be sure to contact the experienced lawyers at Appelman Law Firm. We will go to work fighting for your rights, and we can also help to secure your release right away. We've done it for clients in the past, and we can do it for you. Here's a message from one client from a previous 4th of July celebration gone awry.
After retaining Appelman Law Firm, I was able to get out of jail the next day. This would normally be a hassle considering I was arrested on the Friday of 4th of July weekend.
If you end up in trouble, give us a call at (952) 224-2277.