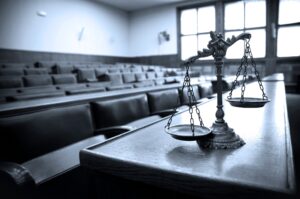 Last week, the Minnesota Supreme Court ruled that a Becker County judge's decision to allow a key witness to testify via Zoom during the peak of the COVID-19 pandemic did not violate the defendant's right to confront their accuser in person in court.
The ruling centered around the case of Kim Marie Tate, whose drug-related hearing took place during November of 2020, when Minnesota was reporting record numbers of coronavirus infections and deaths. Days after Tate was convicted, a temporary pause was put on criminal trials. The defense appealed the conviction on the grounds that Tate's rights were infringed because a key witness in the trial contracted COVID-19 and was forced to quantartine for two weeks. Instead of postponing the trial, the judge brought in a 65-inch television and had the witness testify via Zoom. The judge asked all parties to treat the situation as if the witness was in the courtroom.
"Given this extraordinary context of courts trying to administer justice safely during a virulent and deadly outbreak of disease, the district court correctly found that a valid public policy interest was furthered by the use of remote testimony for this one witness," Associate Justice Margaret Chutich wrote for the majority.
Not All Agree
Tate's attorney originally argued that the trial should be suspended until the witness could be in the courtroom and face Tate and the attorney in person, but the Minnesota Supreme Court did not feel that the witness testimony via a live Zoom call was problematic.
"Decisions to allow remote testimony must be evaluated on a case-by-case basis," Chutich wrote. "Although some subtle intricacies of the witness's demeanor may have been lost because the lead investigator was not physically in court, the jury, counsel, the court, and the defendant could see his face with reasonable clarity and had the opportunity to assess his manner when testifying."
Associate Justice Paul Thissen disagreed with the majority. In his dissent, he penned that the trial should have been postponed.
"We cannot throw out the basic constitutional principles by which our criminal justice system operates simply by invoking the word 'COVID,'" wrote Thissen.
Tate was sentenced to probation and a stayed 21-month prison sentence on a third-degree drug charge.
In a perfect world, the witness would have been in the courtroom, and while we'll go to bat for all of the clients we defend, we can at least understand the complex nature of the situation and the reasoning behind the court's decision to uphold the verdict, regardless of whether or not we agree with the decision. Hopefully we're past the point where COVID-19 disrupts criminal court trials going forward, but you never know with a pandemic.
If you need help with a criminal case in the greater Twin Cities area, reach out to Avery and the team at Appelman Law Firm today at (952) 224-2277.