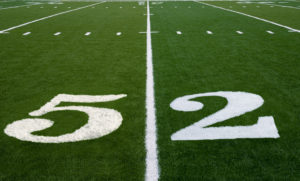 The Super Bowl is only a couple weeks away, and if you've been in the downtown area, odds are you've seen some changes and additions as the city prepares to host football's biggest game. Making sure the Super Bowl runs smoothly isn't a one-day affair, and police and city officials have already begun beefing up security for the big game. Today, we take a closer look at how law enforcement plans to prevent crime during Super Bowl week and on game day.
Cracking Down on Crime
Here's a look at some of the ways police and government officials are trying to crack down on crime as Minneapolis prepares to host the Super Bowl.
Thousands of Police Officers – Thousands of police officers will make their presence known in the days leading up to kickoff and on game day. Some will be in SWAT gear, others will be undercover, and the majority will be patrolling in their regular uniforms.
Fences, Barriers, Gates and Metal Detectors – If you plan on going to the game or just hanging out near the stadium, plan to get downtown well in advance. The city has added more than two miles of fences and barricades, and the only way to enter the grounds is by passing through metal detectors and bag checks.
Surveillance Cameras – The city as already added dozens of security cameras near the stadium and around the downtown area to help capture activities on film.
Bomb Sniffing Dogs – More than 100 explosive detecting dogs will be on hand on Super Bowl Sunday.
Real-Time Officer Locations – Using advanced software, law enforcement will be able to see where every officer is in real-time.
Anti Sex Trafficking Plan – More than $1 million has been budgeted for education, law enforcement and victim assistance to help prevent sex trafficking from taking place. The Super Bowl is one of the largest gatherings for sex traffickers, and the city plans to do everything in their power to prevent trafficking from taking place.
Increased Mall Security – The Mall of America is also getting a larger police presence as the Super Bowl approaches, and staff are having regular meetings about how to handle the extra shoppers and potential for crime.
If you or someone you know got into trouble leading up to the Super Bowl or on game day and you need legal help, reach out to Avery Appelman and his team of experienced lawyers at Appelman Law Firm. Whether you're from right here in the Twin Cities or you traveled from another state, we can help you sort out your legal trouble. For more information on how we'll do this, contact our office today.