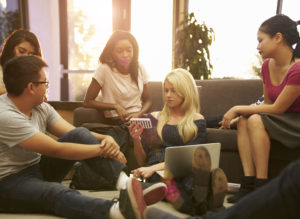 School is back in session, and that means students have flooded back to residence halls and campus apartments for another year. As you might have guessed, as the student population on campus increases, so does the area crime rate.
According to the University of Minnesota Police Department, there was a noticeable uptick in certain crimes during this year's welcome week. Incidents of property damage and theft not only increased on a day-to-day basis, but they also eclipsed crime numbers from last year's welcome week.
"We go from 5,000 students to 52,000 in … a couple days," said UMPD Lieutenant Chuck Miner. "With an increase in students, there's increased chances of crime occurring."
In an effort to curb criminal acts, Miner noted that officers will be conducting extra patrols at times when criminals are most likely to strike.
"We usually have extra officers patrolling on weekend evenings when crime is most likely to occur," added Miner.
Preventing Crime On Campus
If you want to prevent yourself from becoming victimized this semester, consider some of the tips below.
Walk with a friend to your destination, especially at night.
Do not leave your dorm room or vehicle unlocked when you aren't around.
Stay aware of your surroundings.
Don't leave your phone or purse unattended in a public place like a bar, cafeteria or park.
Don't assume that just because you wouldn't take someone else's stuff that others will do the same with your belongings.
Let people know where you're going and when to expect you.
Do not overconsume alcohol.
Set expectations about visitors and residence security with your roommates.
Legal Help On Campus
In the grand scheme of things, the University of Minnesota and other campuses across the state are all very safe, but even the best trees have a few bad apples. The key is to take a few basic steps to help you avoid becoming victimized. If you follow the above tips, we're confident that you'll have a safe and fun fall semester.
If you do run into trouble, whether it was a stupid alcohol-induced mistake or you end up caving to peer pressure and find yourself choosing drugs over homework, know that there are plenty of safe spaces you can reach out to in order to get your life back on track. Avery and his team can help defend you against any criminal charges, and he also has a number of contacts in the addiction services community who can help you if you're fighting a losing battle with drugs or alcohol. As always, any information or help you need will be completely confidential, so you don't need to worry about how asking for help may be perceived by others.
If you need legal help or substance abuse counseling this semester, reach out to the experienced lawyers at Appelman Law Firm. We hope you have a wonderful school year, and while we hope you don't need our services, we're here if you ever do. Contact our office today for more information.
The following two tabs change content below.
Avery Appelman
Avery Appelman is a criminal defense lawyer and the founder of Appelman Law Firm. While his practice is primarily recognized for its work with DWI and related offenses, he has 16 years of experience working with clients on drug, assault, theft, traffic, criminal sexual conduct, and prostitution charges.
Latest posts by Avery Appelman (see all)