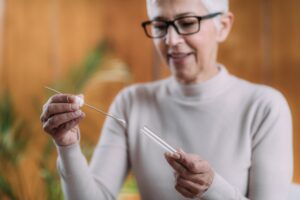 You've probably seen advertisements for home DNA kits like 23 and Me or Ancestry.com, and more people are turning to these genealogy companies to learn more about their past and their ancestors. However, these DNA tests are also being used by police and investigators to help solve cold cases here in our backyard.
These home-based geology tests work by comparing your DNA to huge databases full of DNA information to identify a person's ancestry, but in order to build a bigger database, the submitter has to consent to allow their DNA to be entered into the public realm. This means that a growing portion of people without a criminal conviction are having their DNA entered into DNA databases. Not only does it make it easier for police to find a match in the event you ever decide to leave DNA evidence at the scene of a crime, but it also means that police can zero on on suspects due to genetic profiles created by family members who have submitted their DNA to one of these labs.
According to the Minnesota Bureau of Criminal Apprehension (BCA), genetic genealogy has been tried in at least 23 cases, and so far, the method has helped solve at least five unidentified person cases and at least four homicides. The process works by uploading genetic information of a victim or even a suspect into certain public DNA databases. These databases can match DNA to samples on file, or they can identify certain genetic markers that indicate a likely match to extended family members. For example, if DNA from a Jane Doe showed a possible family match, parents or grandparents of a missing individual could submit their DNA to create a more accurate identification.
"It's a lead generation tool," said BCA Superintendent Drew Evans. "It really is used in those cases where we are trying to solve the unsolvable, the cases that we have exhausted other methodologies, other techniques, and it's providing us a lead to determine whether or not we can identify the perpetrator through this technology."
Solving The Unsolvable
The technology was recently used to solve the murder of Jeanne Childs, who was stabbed to death in her Minneapolis apartment in 1993. Her case went cold until 25 years later when DNA collected at the crime scene was processed through one of the public genealogy databases, which identified Jerry Westrom as a possible suspect. Investigators later followed Westrom to a hockey game and recovered a used napkin that he had discarded. That napkin became a key piece of DNA evidence that eventually led to Westrom's conviction for the murder of Childs.
The technology has also be purported as helping investigators identify a suspect in the murders of four University of Idaho students last year. Many outlets have reported that public DNA databases and genealogy information helped investigators hone in on suspect Bryan Kohberger.
As you might imagine, not everyone is on board with how genetic genealogy is being used in criminal cases, but Superintendent Evans noted that the information garnered from these sources is just a lead, and concrete detective work after the fact is what really drives home a conviction or positive identification.
"There's a strong track record both in Minnesota and across the country that the technology works, but it's a lead, and it's a lead in criminal investigations because it doesn't identify the individual that was the perpetrator of the crime in the same way that it does with traditional DNA that was use in our laboratories day in and day out," said Evans.
It seems like it's only going to be harder to get away with a crime in the future, but if you need help with a defense if you end up facing criminal charges, give Avery and the team at Appelman Law Firm a call today at (952) 224-2277.