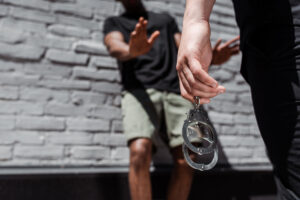 You've probably heard the term "detainment" or a form of the word if you watch legal dramas on television or have some familiarity with the legal world, but many people can't specifically explain what it means to be detained by police or what factors need to be present for police to legally detain an individual. Moreover, they don't know how to best act in the event they ever found themselves being detained by the police. In today's blog, we take a closer look at what it means to be detained, and how to handle a police detainment in Minnesota.
What Does It Mean To Be Detained?
In order to understand how to handle being detained, it's important to make sure you understand what a detainment entails. In Minnesota, a detainment is defined as a brief questioning by police. Brief is interpretative, so there are no hard limits on how long these interactions can last. Their length may also vary based on the situation and the possible crime, so you can't just leave a detainment because 10 minutes have passed. There is no set time limit, but the interaction is supposed to be brief or reasonable in its length.
If you are being detained, you are not free to leave. You can not simply start walking away from the officer because they are not currently placing you under arrest. If you try to leave during a detainment, you can be charged with resisting arrest.
Now that you know a little bit about the detainment process, the biggest question remaining is when can police detain an individual? According to Minnesota law, a police officer must have reasonable suspicion of a crime in order for an officer to detain an individual. Reasonable suspicion can amount to a number of different situations, so again, it's a bit interpretive. If your car matches the description of a vehicle police are actively looking for, or you are seen exiting a known drug house, police may stop and detain you. Again, you cannot leave while you're being detained, but you have a right to know if you're being detained, so you can ask the officer if you'd like more information as to why you are being stopped.
How To Handle A Detainment
In short, you want to be respectful and quiet during a detainment, regardless of whether or not you're guilty of whatever police suspect you of doing. As to the first point about respect, you'll get your date in court to say your peace, so don't make things worse by escalating the situation by yelling at the officer or being disrespectful. You may be mad or frustrated, but do your best not to let it show, because it won't do you any good.
The second point about being quiet is also very important. During a detainment, you have the right to remain silent. That means you do not need to answer any questions about the incident police are inquiring about. You have the right to avoid self-incrimination, so don't try to talk your way out of a situation or give police the ammo they need to build a solid case against you. Provide basic information, like your name, driver's license and other identifying information, but remember that you are well within your rights to say that you're not going to talk about specifics until you've spoken with a lawyer.
Similarly, you need to remember your rights when it comes to unreasonable searches and seizures. Odds are if police are detaining you that they do not have a search warrant for your property. They'll likely ask for your permission to search you or your vehicle, and they may even try to get you to comply by noting that it's suspicious that you're refusing a search or that "you've got nothing to worry about if you have nothing to hide," but that's just scare tactics. If they have valid beliefs that you may be committing a crime, then they should have no problem securing a search warrant. Absent a search warrant or an arrest, police cannot search your property unless you give them permission. Don't give them that permission.
If you do all of the above, we're confident that you'll successfully navigate your detainment and put yourself in a great position to win your case should authorities pursue charges. And if you need help defending yourself against those charges, or you believe your rights were violated during the detainment, reach out to Avery and the team at Appelman Law Firm today at (952) 224-2277.