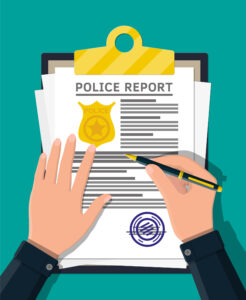 If you were arrested or involved in an incident in which a police officer arrived on scene and took an account of what transpired, odds are a police report or a similar incident report will be created and filed. This police report is extremely important if you're trying to contest the charges against you or prove that you aren't at fault for an automobile accident, but how can you get a copy of this report and put it to good use when challenging your case? We explain how to obtain a copy of your police report in Minnesota in today's blog.
How To Obtain A Police Report
It seems like it should be rather easy to obtain a copy of an incident report in which you were involved, but that's typically not the case. You may have to jump through a few hoops, but there is one simple way to obtain a copy, and that's by hiring a criminal defense attorney like Avery Appelman.
A criminal defense lawyer will be able to track down the police report and get you a copy if you'd like to see it. If your lawyer is handling your case, they will likely work to get you a copy so that you can read it over and check it for inconsistencies. If the police report has any inaccurate information that could help to discredit the other side, your lawyer will want to know about it.
However, the report you get to view may not be a full and complete incident report, because a person's ability to view law enforcement data is governed by the Minnesota Government Data Practices Act. This means that public data may be made available to you upon request, but if the data is considered part of an active criminal investigation, you may not be allowed to view it just yet. Again, your lawyer will be able to simplify this process, but if you are trying to obtain a copy on your own, be aware that you may run into some difficulties if the case is considered an active investigation against a suspect.
If you want to try your hand at getting a copy of a police report without a lawyer's assistance, you'll want to contact the department who created the report. They may be able to get you a copy of the report, or they may refer you to the appropriate prosecutor's office. This may require a few different calls, but odds are you'll be able to get in touch with someone who can get you a copy of the public portion of your incident report.
Again, and we can't stress this enough, this whole process is much easier if you just let a criminal defense lawyer work to obtain the copy. We've obtained thousands of police reports for clients over the years, and we know most of the police departments and prosecuting agency's phone numbers from memory at this point. We'll work to quickly get a copy of this report so we can get started on your defense.
For more information or for help with your criminal case, reach out to Appelman Law Firm today at (952) 224-2277.