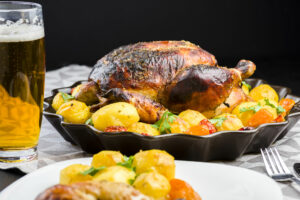 Tomorrow is Thanksgiving, but for some people, tonight is the day they look forward to a little bit more. Affectionately known as Blackout Wednesday in many circles, the night before Thanksgiving is a popular time to catch up with friends and family, and oftentimes this gathering can involve some alcoholic beverages. When you consider the fact that most people don't have to work on Thursday and their biggest obligation will be making it to the dinner table, it's easy to see why the Wednesday before Thanksgiving can be a popular day for drinking, driving and DWIs.
We hope that you make smart decisions behind the wheel if you plan on drinking tonight or at any point throughout the Thanksgiving holiday stretch. We've already pointed out how police will be out in extra force looking for drunk and dangerous drivers, and they won't be letting people off with a warning. You need to make smart decisions, even if you're only heading a mile down the road, because police will be out with an added emphasis looking from drunk and buzzed drivers.
In the event that you or someone you know makes a poor decision, it's imperative that you follow a few steps so that you can avoid spending Thanksgiving in jail. We share those steps in today's blog.
Arrested For A Thanksgiving DWI
If you are arrested on the night before Thanksgiving, the first thing you'll want to do is connect with a lawyer. We understand that you may want to let a close friend or family member know about your situation, but it's best to use your phone call to contact a professional. We can help to secure your release and reach out to your family to keep them updated on your situation.
The biggest reason why it's so important to contact a lawyer right away is because it is oftentimes very difficult to get out of jail on Thanksgiving. Defendants aren't being brought before a judge, so you may have to wait until Friday or even longer until you can have the charges read before a judge and determine your grounds for release. However, if you connect with an attorney, we can typically help secure your release much earlier in the process. We can get you back to your family before the turkey is out of the oven so that your family doesn't have to deal with awkward or embarrassing questions about your absence.
After you've reached out to an attorney, it's important that you stay quiet throughout the process of the arrest and while at the police station. You're not going to be able to talk your way out of the situation. Instead, talking about the specifics of your case with police only tends to hurt your case, as you'll be handing them evidence to be used against you in court. You may not view telling the officer that you only had two beers as a problem, but now police have a clear admission of drinking before getting behind the wheel, which only helps their case. You can give them your basic information, but outside of those facts, it's best to keep quiet.
If you reach out to an attorney and stay quiet until your release, we're confident that you'll be putting yourself in a more favorable position in spite of the circumstances. And remember, we answer our phones 24/7 throughout the Thanksgiving stretch, so if you need an attorney at 3 a.m. on Thanksgiving morning, we can be your ally. If you're arrested in Minneapolis, St. Paul, Woodbury, Eagan, Edina, Eden Prairie, Woodbury, Bloomington, Chaska, Richfield, Inver Grove Heights, Maple Grove or any other suburb of the Twin Cities, let Avery and the team at Appelman Law Firm be the team to help you. For more information, or to secure your release from jail, give our team a call today at (952) 224-2277.