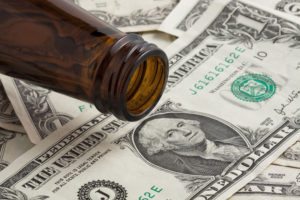 You've probably heard that it is much cheaper to call a cab or hail an Uber than it is to get a DUI in Minnesota, but just how expensive is a DUI? In today's blog, we take a closer look at the potential fine amounts associated with a DUI, and we shine a light on some of the additional costs that can impact the total financial burden on your wallet.
DWI Fine Amounts In Minnesota
If you are convicted or Driving While Intoxicated in Minnesota, you can face certain fines based on your specific criminal charge. Here is the fine breakdown based on your charge:
Misdemeanor – A standard, first-offense DWI is typically treated as a Fourth Degree DWI, which is a misdemeanor. It includes a possible fine of up to $1,000.
Gross Misdemeanor – If any aggravating factors are present, or you refuse to submit to a breathalyzer, you can be charged with a gross misdemeanor DWI or test refusal. This is punishable by a fine up to $3,000.
Felony – If you have numerous DWIs on your record or you injure another party while driving drunk, you can be hit with felony charges. A felony-level DWI can include a fine of up to $14,000.
Additional DWI Costs
The fine amount is not the only financial obligation you'll be responsible for after a DWI. Some additional expenses include:
Automobile insurance premium increases
Lawyer fees
License reinstatement fees
Court costs
Alcohol education course fees
Ignition interlock fees
Towing and storage fees
As you can see, all of those expenses can add up in a hurry. It's not uncommon for a DWI to have a $5,000-$10,000 total financial burden on a person when all is said and done.
You might be thinking that you can save some money by going with a court-appointed lawyer or skipping legal representation altogether, but this is a bad decision. The single best thing you can do to reduce your financial burden after a DWI is to connect with a private attorney. They'll be able to fight your case for you and ensure you avoid a worst case scenario. Not only can they work to beat the charges, but they can also negotiate a plea deal or make a case during sentencing to avoid jail time or excessive fines. Oftentimes hiring an attorney more than pays for itself after a DWI.
A DWI can cost thousands of dollars, so make a smart move and avoid getting behind the wheel if you've been drinking. If you make a mistake and end up with a DWI, make sure that your next move is to contact an attorney like Avery and the team at Appelman Law Firm. Give our team a call today at (952) 224-2277.