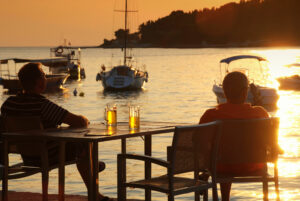 The Memorial Day holiday weekend is on the horizon, and the first extended weekend for most people is also the unofficial start of summer here in Minnesota. We hope you have a blast over the holiday weekend, but if you plan on ringing in the festivities with some alcohol, you need to make sure that you have a sober ride home, because police will be out in full force looking for drunk drivers this weekend. In year's past, more than 300 departments across the state provided enhanced DUI enforcement over Memorial Day weekend, and we see no reason why this year would be any different.
Memorial Day 2021 DUI
There are a number of factors that are shaping up to potentially make this one of the most dangerous weekends on Minnesota roads this year. The extra day off gives people more opportunity to drink, the warming weather and extended daylight can make for longer nights, and heightened holiday weekend traffic can be a recipe for disaster if you get behind the wheel while you're under the influence.
If you get caught, some of the potential penalties you can face include:
Fines
Jail time
Loss of driver's license
Vehicle forfeiture
Substance abuse counseling
Victim impact panel
Community service
Probation
The potential penalties only increase if aggravating factors are present or you injure someone while you're under the influence, so it's imperative that you make smart decisions this weekend. Even if you're only going a couple miles down the road, know that police will be out in extra force to catch inebriated drivers.
Law enforcement won't just be policing the roads, either. Expect an added presence on lakes, at boat landings and along some of the more popular ATV trails. Even though you're not in a standard vehicle, being caught driving a boat or an ATV while you're under the influence will be treated the same as a normal DUI, so you're not getting off any easier just because you weren't drinking and driving on the highways.
While all the factors suggest this could be one of the more dangerous and deadly weekends on the road this year, we're hoping that this announcement helps at least one person make a smart decision about drinking and driving. Police will be all over the roads and high-traffic areas, so if you plan on celebrating the holiday weekend with alcohol, know how you're getting home safely before you start drinking. You can also help spread the word about the extra enforcement so that others can make the same smart choice.
And if something does end up going wrong and you find yourself in need of a criminal defense lawyer, be sure to reach out to Avery and the team at Appelman Law Firm. We staff our phones 24/7 over these holiday weekends so that no matter when you call, you'll be able to connect with a member of our team when you need us most. For more information, for help getting out of jail or for legal advice, give us a call today at (952) 224-2277.