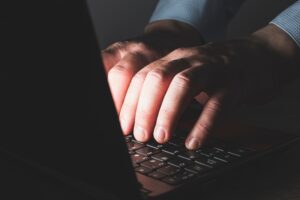 The internet has made it easier for people to connect with one another, but that's not always a good thing. For instance, when an individual uses the internet or another electronic means to connect with and solicit a child. In Minnesota, this will lead to electronic solicitation of a minor charges, which as you may imagine, carry some severe penalties. Below, we take a closer look at the charge and explain what you should do if you ever find yourself facing an electronic solicitation of a minor charge in Minnesota.
Soliciting A Minor Through The Internet
Child predators are no longer roaming the streets in large unmarked vans offering candy to children. Instead, they are at home, on a computer, navigating social media sites and chatrooms for vulnerable children. This is why lawmakers needed to come up with a law that addressed the rather recent rise in electronic communication methods. Here's what the law says about electronic solicitation of a minor in Minnesota.
"A person 18 years of age or older who uses the Internet, a computer, computer program, computer network, computer system, an electronic communications system, or a telecommunications, wire, or radio communications system, or other electronic device capable of electronic data storage or transmission to commit any of the following acts, with the intent to arouse the sexual desire of any person, is guilty of a felony.
(1) soliciting a child or someone the person reasonably believes is a child to engage in sexual conduct;
(2) engaging in communication with a child or someone the person reasonably believes is a child, relating to or describing sexual conduct; or
(3) distributing any material, language, or communication, including a photographic or video image, that relates to or describes sexual conduct to a child or someone the person reasonably believes is a child.
As mentioned in the law, a conviction of electronic solicitation of a minor is considered a felony offense, which is punishable by up to three years in prison and $5,000 in fines, among other things.
Most cases of electronic solicitation of a minor comes about in one of two ways. The most common way is when an officer poses as a child in a chatroom or on a social media site. Eventually, the perpetrator and the officer-in-disguise agree to meet at a specific location, and when the individual arrives, they are taken into custody and criminally charged. The other common way for electronic solicitation of a minor charges to come about is when a parent or guardian discovers messages on a computer or cell phone and brings it to the authorities.
It's important to remember that an electronic record of your communication likely exists somewhere, especially if you are actually conversing with an undercover officer, who will want to make sure they have as much evidence as possible to build their case. Don't assume that all your messages will delete and that you can feign ignorance. If you assume all of your messages are public or that they will be saved, odds are you'll be able to steer clear of trouble.
And when it comes time to pick a defense, it won't matter that you weren't actually talking to a 14-year-old or that the police officer lied about who they were. If you thought you were interacting with a minor and you still made plans to meet in person for sex, that's all that matters in the eyes of the law. A good defense attorney can help to develop a case and work with the prosecution on a plea deal to help you avoid a worst case scenario, but again, there's only so much that can be done when the other side is using all of your written communication to build a case against you.
We hope you never need assistance building a defense against an electronic solicitation of a minor charge in Minnesota, but we can be a resource in your time of need. For more information, reach out to the team at Appelman Law Firm today at (952) 224-2277.