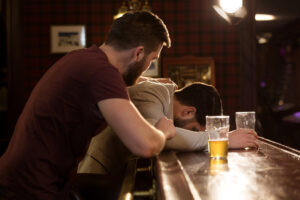 It's time for our annual reminder that police will be out with extra enforcement looking for drunk drivers tonight on what is popularly known as "Blackout Wednesday."
The night before Thanksgiving is historically one of the most dangerous days on the roads for many reasons. For starters, there is a significant uptick in drivers on the road as people prepare for Thanksgiving the following morning. College students are heading home, families are convening at one location, and many people have the next day off, meaning they are more likely to go out in search of entertainment.
Oftentimes, this entertainment involves alcohol in the form of a bar, restaurant or just a get together at a friend's house. If you're going to be drinking, it's imperative that you do not get behind the wheel, because police will have an added presence on the road to look for drunk drivers. Moreover, they won't just be on the highway. They'll be down the street from the pub, at intersections and covering city streets with lower speed limits. Even if you're just a mile away from home, if you've been drinking, you'll be at an increased risk of a DUI.
DUI The Night Before Thanksgiving
A DUI is bad enough, but getting arrested on the night before Thanksgiving can also be a big embarrassment for you and your family. Since Minnesota courts aren't open on Thursday, many DUI offenders can't be brought before a judge to have bail set until Friday. You won't be able to join your family for Thanksgiving, but odds are your shenanigans will likely be the talk of the table. Save yourself the embarrassment and plan a sober ride or take an Uber home from your destination.
If something goes awry for you or one of your friends, pick up the phone and give the attorneys at Appelman Law Firm a call at (952) 224-2277. We answer our phones 24 hours a day, seven days a week, and that includes throughout the Thanksgiving holiday.
We also have great relationships with a number of on-call judges around the greater Twin Cities area, which means we have the ability to help you get out of jail much sooner. In fact, we can typically get you released from the holding cell on the same day you were arrested, oftentimes within a manner of hours, meaning you can get back to your family and avoid extra time in jail. We can work with the on-call judge to get bail set, even on Thanksgiving or in the wee hours of the morning, so that you can secure your release. We've done it for countless individuals over the Thanksgiving holiday, and we'd be happy to do it for you – we just hope you don't need us to!
The team at Appelman Law Firm wishes you a wonderful Thanksgiving, and while we hope you don't need our services, we're on-call at all hours throughout the holiday weekend. Give us a call if you're in trouble, day or night, at (952) 224-2277.