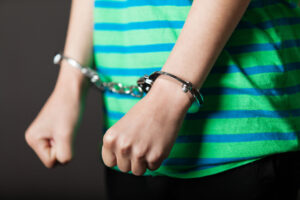 If your child has possibly committed a crime and has been stopped by police, can the officer interview the minor without permission of the parents? Do police have to inform the parents that they intend to speak to the minor about a specific issue or possible crime? In today's blog, we explain whether or not police have to get parents involved when talking to a minor about a criminal matter.
Children, Consent and Culpability
According to Minnesota law, a child under the age of 14 is not capable of committing a crime, so going forward, when we're talking about a minor, know that were talking about someone who is at least 14 years old but under the age of 18. These individuals can be held criminally culpable, but they are not yet considered an adult. So in these instances, do police need to contact their parents or ensure that the parents are present before proceeding with an interview?
No, they do not.
Police are free to question a minor or interview them about a specific criminal matter without their parent's consent or knowledge. However, if the child mentions that they would like an attorney or their parents to be present during the interrogation, police must stop questioning immediately. Well, they can continue if they'd like, but it's a right's violation and any information obtained after this point would be inadmissible and could lead to significant sanctions for violating the rights of a minor.
Police do not even need to inform a child of their right to an attorney (or a parent) if the child is not being arrested or detained. In many instances, police will simply try to conduct an informal interview so that they do not need to inform a child about their right to an attorney. And because many minors view police as trustworthy, they may open up and self-incriminate themselves because they think they are talking to an ally. We're not saying that your child should lie, but they should simply request that their parents or an attorney be present for any questioning.
If your child is arrested or detained, they will need to be informed of their Miranda rights. After reading these rights, police can proceed with an interview if your child agrees to it, but they can also request their parents or a lawyer at this point and put an end to any questioning.
Simply put, make sure that your minor knows that anything they say can be used against them in court, so they will want to keep their mouth shut. Better yet, they can request that their parents or an attorney be present before any additional questioning takes place, and the interview will cease immediately. While kids should be able to trust police in most situations, make sure they know that if they could be in any potential trouble that it's best they have a parent or lawyer by their side before continuing with an interview. It simply helps to protect their rights and their best interests.
If your child has run into some legal trouble and you need assistance, reach out to Avery and the team at Appelman Law Firm today at (952) 224-2277.