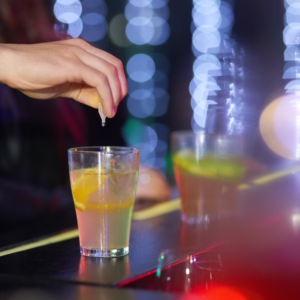 Sexual assault is a very serious crime, and sometimes criminals use drugs in order to incapacitate their victim and facilitate their assault. Oftentimes this is done with what are known as date rape drugs. There are a few different date rape drugs that perpetrators use, and simply possessing them, even if you haven't committed an assault or drugged someone, will land you in a world of trouble in Minnesota.
In today's blog, we take a closer look at date rape drugs and the penalties for possessing them in Minnesota.
Date Rape Drugs
There are a number of different drugs that can be used to render a person unconscious or unable to consent, but the most common drugs that are considered "date rape" drugs include:
Gamma-Hydroxybutyrate – Also simply referred to as GHB, gamma-hydroxybutrate is a drug that depresses the central nervous system. It's odorless and clear, which makes it hard to detect.
Rohypnol – Rohypnol is commonly referred to as a "roofie" on the street, and it also works by depressing the central nervous system. It typically comes in tablet form and is then crushed and stirred into drinks.
Ketamine – Ketamine is sometimes called "Special K," and it is an odorless and tasteless drug that comes in both liquid and powder form. Although it is sometimes used as a sedative, it's considered a Schedule III drug as it has a high probability of abuse.
Possession Of Date Rape Drugs In Minnesota
You don't need to get caught stirring these drugs into someone's drink in order to end up in real trouble in Minnesota. If you are caught possessing any of the previously mentioned drugs, odds are you'll be hit with a fourth-degree drug offense. Fourth degree drug charges are reserved for people found in possession of Schedule I, II or III drugs, and Minnesota classifies all of the above drugs as Schedule III drugs. Federal law considers them a Schedule I drug, so you can face even more time if federal charges are brought against you.
A fourth-degree drug charge in Minnesota can result in up to 15 years in prison and fines up to 100,000. Again, this is all pre-assault. You can also face sex assault charges depending on what other actions were taken on the night in question. You'll also face charges if you drug someone and no further action is taken, because it's illegal to drug someone without their knowledge or consent.
Needless to say, you'll need a lawyer by your side if you are found in possession of date rape drugs or after they've been administered, so never put yourself in a position that could cause problems. For more information, or for help with a criminal charge, reach out to Avery and the team at Appelman Law Firm today at (952) 224-2277.