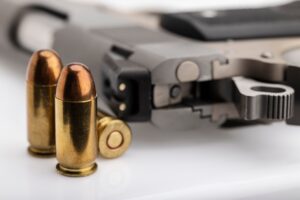 New data from the Bureau of Alcohol, Tobacco Firearms and Explosives (ATF) suggests that legally purchased firearms are showing up at crime scenes, both on a national scale and in Minnesota, much faster than in years past.
The data suggests a growing problem when it comes to firearms across the country, according to the feds. They say they've seen an increase in both firearm thefts and straw purchases, where an individual purchases a gun for someone else who either cannot purchase one on their own or who is not legally allowed to carry a firearm. Many of these illegally acquired firearms are turning up at crimes scenes at a faster rate.
Here's a closer look at some of the data from the ATF:
The ATF recovered and traced 4,605 firearms in Minnesota last year, up from 4,072 in 2020.
The average time from when a firearm was legally purchased to when it showed up at a crime scene was 6.27 years in 2021. That figure is down from 7.34 years in 2020 and 8.43 years in 2019.
The dropping average time between purchase and involvement in a crime also holds true on a national scale. Prior to the pandemic, that average time span was a little more than eight years, but it has fallen to just over six years in 2021.
"We're trying to put as many links on that chain together to find out exactly how it left the lawful stream of commerce and got into its status as a 'crime gun,'" said William McCrary, special agent in charge of the ATF's St. Paul division.
Practice Smart Gun Ownership Practices
The ATF is urging Minnesotans and people across the nation to be smart about how they possess and store their legally purchased firearms. Agents recommend against storing your firearms in a vehicle, as they can make an easy target for thieves, and keep your firearms stored in locked storage containers in your house, especially when you are away.
It's also important to realize that purchasing a firearm for someone else is a major crime that can land you in jail. Similar to how it's illegal to purchase alcohol for someone under the age of 21, you are not allowed to help procure a firearm for someone who would not otherwise be able to obtain or legally carry a weapon. Not only is it illegal, but you can also be held accountable in the event that the firearm in question goes on to be used in the commission of a crime. If someone is robbed, shot or murdered as a result of the gun you helped someone illegally acquire, you can be charged with a felony. It may seem like a harmless action and an easy way to make a few bucks, but you're putting your freedom on the line and your fate in someone else's hands, and it's simply not worth it.
If you or someone you know has run into trouble in a firearms-related matter, or you need legal help for a different criminal issue, reach out to Avery and the team at Appelman Law Firm today at (952) 224-2277.