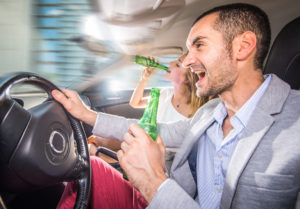 We've already written a blog on the drunk driving statistics from the New Year's holiday, but more information about some of these arrests was just released. Some of the arrests were crazy, while others were just down right stupid. Below, we take a look at five of the most idiotic arrest stories from the New Year's DUI crackdown here in Minnesota.
Dumb DUIs in Minnesota
Before we take a look at five crazy DUI stories from the holiday crackdown, here's a couple fast facts:
12 agencies across the state arrested someone with a BAC over 0.35.
The highest BAC occurred in Coon Rapids County, where a driver blew a 0.492.
The Minnesota State Patrol (Oakdale) registered the most DUI arrests in the Twin Cities metro area.
The Minnesota State Patrol (Rochester) registered the most DUI arrests outside of the Twin Cities.
Between Thanksgiving and New Years, Minnesota police arrested 2,656 drivers for DUI.
And without further ado, here's a look at five stupid DUI arrests during the crackdown.
Twice as Nice – A Fairmont woman became very familiar with police after she was arrested for DWI on Christmas Eve and again on New Year's Eve. In both instances, she was driving on the wrong side of the road.
Refer A Friend – In Mankato, a man was arrested for DWI with a passenger in the car. Two hours later, the passenger was arrested for DWI while driving the same vehicle. He was on his way to the St. James Police Department to pick up his friend.
Lend A Hand– A good Samaritan stopped in Thief River Falls to help pull a drunk driver out of a snowbank. The only problem was that the good Samaritan was also under the influence of alcohol. When police arrived to assist, both drivers were booked for DWI.
Fast and Furious – An Onamia woman who was caught traveling more than 100 miles per hour sideswiped a vehicle before being pulled over by law enforcement. Her BAC was 0.36, or 4.5 times the legal limit.
I Believe I Can Fly – A drunk driver in the Olmsted County Parks area hit some rocks, flew up into the air, and landed in a lake.
Don't be like any of these people in the above stories. However, if you end up making a mistake, be sure to reach out to a criminal defense lawyer like Avery Appelman. We'll work with you to help you get the best possible outcome for your situation. Contact us today at (952) 224-2277.