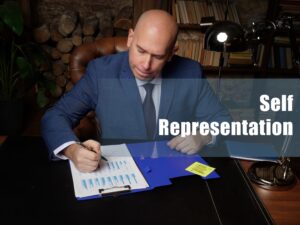 You may think that there is no better person to tell your side of the story than you, and that may lead you to want to represent yourself in court at a criminal trial. If you're going waive your right to counsel and argue your case for yourself, you need to be smart about your approach. In today's blog, we share four tips for representing yourself at a criminal trial.
Tips For Self-Representation In Court
Here are four pieces of advice from our legal team for those who are considering representing themselves during a criminal trial.
1. Prepare, Prepare, Prepare – Your're going to be up against a professional prosecutor who is in the courtroom for a living, so you need to come prepared. We don't expect you to pass the bar exam before trial, but you really need to map out your argument, consider how the other side may counter your defense, and prepare a rebuttal. If you come in under-prepared, you're going to get eaten alive. If you truly want to represent yourself in court, you really need to prepare your defense and some points to counter some expected arguments from the other side.
2. Dress The Part – Look presentable during your court appearances. Wear a suit or at least a dress shirt and tie. This helps to showcase that you take the proceedings seriously. Again, the other side will be dressed professionally, and you should be too.
3. Be Early – Odds are you're not all that familiar with the courthouse, the courtroom or the proceedings, so give yourself plenty of time to get to where you need to be. Showing up late or missing your court appearance altogether can cause major issues for your case. Similar to dressing the part, being early and ready to begin when called on can showcase that you take everything seriously.
4. Don't Do It – Finally, our last piece of advice is that in general, it's not a good idea to represent yourself at trial. You may have a story to tell, but there are so many aspects of the legal system that you simply cannot understand without experience, and that will make it significantly harder to win your case. You likely won't know when to object, when to file a motion or how to cross examine a witness. Failing to do these correctly will leave you at a severe disadvantage during your case.
Instead, connect with a lawyer who can build a strong defense and make sure that the facts of the case are clearly understood by the judge or jury. Don't get taken advantage of by a prosecutor because you tried to represent yourself at trial. Connect with a lawyer and let them put forth the strongest defense. If you want to give yourself the best chance at winning at trial (or the best chance of avoiding a worst case scenario), you need to have a professional in your corner.
To learn more about how we can help build a strong defense for your criminal case, or to talk about your legal options during a free case review, reach out to Avery and the team at Appelman Law Firm today at (952) 224-2277.