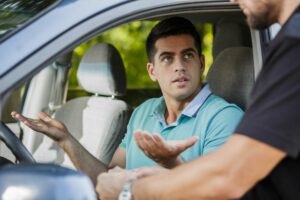 If you're charged with driving under the influence, the police report is not going to say that you were stopped because police believed you may be under the influence of alcohol. While they may form that opinion at the moment of their first interaction with you, possibly being under the influence isn't going to be the reason police stopped you in the first place. Instead, they are going to say that you were stopped because they witnessed one of many potential driving infractions.
But what type of infractions could lead to an officer pulling you over? There are obvious answers like driving with your headlights off at night or not having a working brake light, but there are a number of other less obvious infractions that can lead to a police cruiser pulling up behind you. In today's blog, we shine a light on 20 not-so-obvious reasons why a police officer may pull you over and conduct a traffic stop.
Why Am I Being Pulled Over?
Here's a look at 20 common but not always well-known reasons why a police officer may begin a traffic stop:
Rapid acceleration or deceleration
Weaving within lane
Turning with a wider-than-normal radius
Following too closely behind another vehicle
Texting or typing on a phone behind the wheel
Making an illegal turn
Not signaling a turn
Having your brights on too long when another vehicle is approaching in the other direction or when entering town
Responding too slowly to traffic lights
Driving with your tires on the center line or right lane line
Inappropriate breaking
Nearly striking an object or vehicle
Having an unacceptably loud or broken exhaust system
Driving on a deflated or flat tire
Having illegally tinted windows
Making an illegal U-turn
Having a blocked license plate
Cutting off another driver
Littering out your window
Having an expired license plate
Police will get the majority of their traffic stops from actions like speeding or rolling a stop sign, but if they suspect you may be intoxicated, they will begin looking for these minor infractions in order to conduct a traffic stop. Seeing someone leave a bar or driving with Whiskey Plates is no longer enough reasonable doubt in order to stop someone, so they must witness some other infraction in order to stop the driver and talk to them. Any of these actions allow them to legally stop you, so watch your actions behind the wheel.
That being said, police could stop the majority of motorists on their way to work for one of these infractions, or they could just make up a story that they witnessed one of these infractions, so it's important to talk to a lawyer if they used one of these reasons in order to pull you over and charge you with a larger crime. Avery has helped challenge the legality of a traffic stop for many clients in the past, and he can do the same for you. Cops need to follow due process throughout the exchange, and if they don't, the whole arrest can be thrown out. Learn more about how we can help get your charges reduced or dropped by challenging the stop itself by calling our office at (952) 224-2277 today.